RMED Friday, March 4, 2022 Featured Student: Annalise Laaker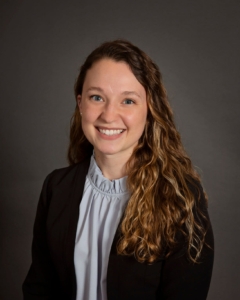 We're happy to be back this Friday with another RMED Student Facebook Feature, and this week we are spotlighting Annalise Laaker! She is a 4th year student originally from the nearby rural town of Dixon, IL. We asked Annalise the same questions about her background and why she chose the rural health career path she is on, and her answers indicate that her rural experience she had growing up had a lot to do with cultivating her passion! Also, the time she's been able to dedicate to real-life experiences in hospice care and also with her rural physician mentors, has solidified her decision to plan on practicing rural medicine after she graduates.
What is your hometown? Dixon, IL
What year are you in the RMED Program? M4
What is your undergraduate degree in, and which college did you attend? I have a BS in Biology, Medical Sciences from Southern Illinois University – Edwardsville.
What did you want to be when you were growing up? Are you majoring in it now, or are you following a different path?
I always wanted to do something in medicine. Growing up on a farm, I thought that would mean a career as a veterinarian. But as I spent time shadowing and volunteering in hospitals during high school and college, I felt drawn to the patient interaction and shifted gears toward medical school.
Why did you choose to focus on rural medicine?
I have lived my entire life in the rural setting, it's where I feel at home. Using that experience and what I've learned through the RMED program, I feel that I can make the biggest impact by practicing emergency medicine in a rural area.
Are you involved in any extracurricular activities? If so, which ones? How have they added to your experience as an RMED student?
My favorite extracurricular activity during medical school has been volunteering with a local hospice group. Spending time with those patients has been both a rewarding and reinforcing experience.
What advice would you give to students applying to medical school? How would you encourage them to consider rural health?
I would encourage anyone who grew up in a rural community and is applying to medical school to consider rural health. The RMED program does an excellent job of connecting us with rural physicians and preparing us to practice rural medicine. My advice to all students is to find a hobby/activity that you enjoy and make time for yourself on a regular basis.
What hobbies/interests do you have outside of school?
I love to be outside with my husband and our two dogs– hiking, camping, canoeing, gardening. I also enjoy quilting, embroidery, and baking.
Annalise, we are certainly lucky to have you in the RMED program! Check back next week for another student feature to get to know more of our M4 students!
https://ncrhp.uic.edu/wp-content/uploads/2019/06/ncrhp-logo-white-300x138.png
0
0
Beth Squires
https://ncrhp.uic.edu/wp-content/uploads/2019/06/ncrhp-logo-white-300x138.png
Beth Squires
2022-03-04 16:11:36
2022-03-04 16:11:36
RMED Friday, March 4, 2022 Featured Student: Annalise Laaker