Illinois Area Health Education Center Network Program
Illinois Area Health Education Centers (AHEC) Network Program
Established in 2010, the HRSA funded Illinois Area Health Education Centers (AHEC) Network Program has nine regional centers throughout the state to serve both rural and urban underserved residents through access to health professions education, health careers development and community and public health promotion activities.
NCRHP serves as the main Program Office and partners with a satellite program office in Chicago that is part of the University of Illinois College of Medicine Chicago and the UIC School of Public Health. The IL AHEC Network develops and offers innovative, long-term solutions to health and workforce disparities.
Regional centers include AHEC of Northwest Illinois in Polo, Northeast Illinois AHEC in DeKalb, South Central Illinois AHEC in Centralia, South East Illinois AHEC in Fairfield, Chicago AHEC in Chicago, West Central Illinois AHEC in Carthage, Central Illinois AHEC in Normal, East Central Illinois AHEC in Gibson City, Chicago South AHEC in Chicago.
IL AHEC SCHOLARS
Undergraduate and graduate students pursuing a health profession in Illinois can apply for the new Illinois AHEC Scholars Program. This competitive, two-year cohort program supplements students' education with job shadowing, career coaching, seminars and experiences in underserved areas. Participants also receive additional training on practice transformation, behavioral health, social determinants of health, cultural competency and interprofessional education and training.
Illinois AHEC Scholars will graduate from the program with practical insight and expertise that will prepare them to serve as leaders in their health care field. It expands on traditional health professions education and training with the goal of increasing awareness of and interest in health care professions in rural and underserved areas.
Students currently enrolled in medicine, nursing, pharmacy, physical therapy, public health, social work and other health professions are eligible for the program.
AHEC Centers
North West AHEC
North East AHEC
Chicago AHEC
Chicago South
West Central AHEC
Central AHEC
East Central AHEC
South Central AHEC
South East AHEC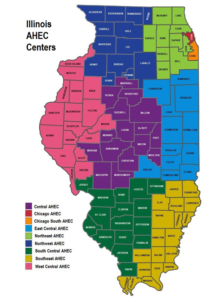 University of Illinois College of Medicine Rockford
1601 Parkview Avenue
Rockford, Illinois 61107
815-395-5780
Latest News
Upcoming Events

September 21, 2023 - 6:05 pm

Below are two upcoming opportunities to add to your learning and skill set! VII Annual Latinx Health Symposium – Oct 13-14 – This academic event will gather Latinx affirming health experts, medical Spanish educators and leaders to provide education centered on Latinx health topics for physicians, other health professionals, and students. Illinois CHW Association Summit 2023 – […]