Friday Feature for March 18, 2022: RMED Student, Jared Cerny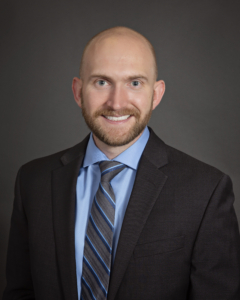 We are happy to be back again this Friday, March 18, 2022 with another fantastic student feature on a 4th year RMED student! Today we'd like for you to meet Jared Cerny, originally from Anna, IL who is another student that proudly chose to follow in his parent's footsteps to practice rural medicine. Read on!
What is your undergraduate degree in and which college did you attend?
BA/BS in Biology from Saint Louis University
MPH from Southern Illinois University in Carbondale
What did you want to be when you were growing up? Are you majoring in it now, or are you following a different path?
Growing up, I had always considered pursuing medicine but also held a variety of other academic interests that provided competition with this idea. In addition to the pre-med curriculum, my course through undergraduate studies shared focus with history and conservation biology that led to consideration of working in the latter field.
Why did you choose to focus on rural medicine?
I chose to focus on rural medicine due to my upbringing in a rural southern Illinois community where my father works as a family physician. As a child I spent significant time around his office, and was able to observe the close-knit physician-patient relationship that was able to develop in a small town setting. My goal is to continue this method of practice, making rural medicine an ideal focus in my training!
What has been something you have found to be an unexpected, yet pleasant surprise during your RMED experience?
An unexpected yet pleasant surprise during my RMED experience has been the comradery that I have developed and shared with my fellow RMED classmates, despite our foundations in a spectrum of the rural lifestyle. Also, being in Rockford has meant roughly half of our classmates are not from rural backgrounds, enabling an ever greater diversity of viewpoints and life experiences that contribute to our medical training.
Are you involved in any extracurricular activities? If so, which ones? How have they added to your experience as an RMED student?
I have been involved in Family Medicine and Wilderness Medicine interest groups throughout medical school, which focus on providing both informational and skills training by faculty within these respective fields. These groups allow for mentorship amongst medical students as well, and have enabled me to share my enthusiasm for both primary care and rural practice with those of RMED and non-rural backgrounds.
What advice would you give to students applying to medical school? How would you encourage them to consider rural health?
For students applying to medical school, I would encourage them to explore their passions and the variety of opportunities that are available within medicine. My path to medical school was far from linear, but I both enjoyed and grew from my experiences outside of the educational setting that helped to expand upon my medical training experience. If you have even a slight interest in a rural practice setting, the rural health curriculum and faculty do a wonderful job of encouraging active learning and providing memorable medical experiences.
What hobbies/interests do you have outside of school?
Outside of school, I enjoy exploring the outdoors and going on hikes or trail runs at local recreational areas, as well as playing basketball or soccer pick-up games with classmates.
Is there anything else you'd like to share about yourself or your RMED experience?
Overall, the RMED experience has been an excellent addition to the training provided with UIC's medical school curriculum. My away rotations with rural providers have provided me with an increased depth of hands-on training that would otherwise be difficult to achieve in a more academic setting, and I anticipate that my relationships with classmates will lead to many life-long personal and professional acquaintances.
Thank you, Jared, for committing to practice rural medicine after you graduate, and for recognizing the importance of hometown physicians in small town settings! We are lucky to have you in the RMED program!
https://ncrhp.uic.edu/wp-content/uploads/2019/06/ncrhp-logo-white-300x138.png
0
0
Beth Squires
https://ncrhp.uic.edu/wp-content/uploads/2019/06/ncrhp-logo-white-300x138.png
Beth Squires
2022-03-18 15:26:37
2022-03-18 15:26:37
Friday Feature for March 18, 2022: RMED Student, Jared Cerny