Friday Feature for March 11, 2022: RMED Student, Whitney Leininger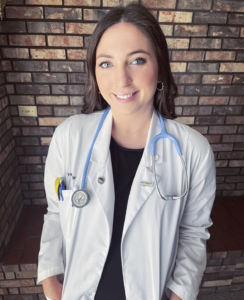 We're back with another Friday Feature on our RMED students, and today we have the pleasure of introducing you to 4th year RMED student Whitney Leininger! She is originally from Greenville, IL and completed her undergraduate degree at Millikin University. Her passion for practicing rural medicine began at a young age, and her dedication shows in her outstanding answers she provided us with below! Read on to learn more about Whitney.
What did you want to be when you were growing up? Are you majoring in it now, or are you following a different path?
My mother is a family nurse practitioner, and she is who inspired me to go into medicine. Throughout my life, I have watched her serve the community she loves and have always been told by her patients of the wonderful care she provides. It is her care for others inside and out of the office that inspired me to enter the field of family medicine where I can serve my patients and community in the same fashion. So, I have known since childhood that family medicine would be the best fit for what I want out of my career and my personal life. Though I frequently reminded myself to keep an open mind to other specialty options as I moved through medical school, I always found myself drawn back to family medicine. On every rotation, I fell in love with aspects of every field, and family medicine is the best career choice to implement all of these pieces. Serving as a family practitioner means that I do not have to choose one subset of patients. Especially as a rural physician, I will likely be serving as a pediatrician, a psychiatrist, a gynecologist, and more. I will have the pleasure of working with patients of all ages and backgrounds, and, most importantly, I will have the pleasure of developing meaningful relationships with my patients that only comes from years of working together.
Why did you choose to focus on rural medicine?
Growing up in a small town of southern Illinois, I was raised valuing a sense of community, hospitality, and neighborly support. Serving as a primary care physician in a rural community, I can fulfill my passion for helping others not only on a physician-patient basis, but through community leadership as well. While rural physicians take on great responsibilities and hardships serving communities with limited resources, they are also given the unique opportunity to have a wider array of practice. A rural physician takes on the role of a pediatrician, psychiatrist, and, in some cases, an obstetrician; and it appeals to me to be able to expand my practice into these other areas and bring whatever services that I can to these communities in need. While applying to medical schools, the RMED program really stood out to me with their unique opportunities to be able to experience and practice in rural communities across the state of Illinois and see the sometimes-drastic comparison between urban and rural medicine. As someone who has always planned to return to a rural community to practice, I am grateful for the clinical opportunities that I have been given through this program.
What has been something you have found to be an unexpected, yet pleasant surprise during your RMED experience?
Definitely the people! The faculty and staff have been so welcoming and dedicated to the RMED program and NCRHP. Additionally, there was never any hesitation when there was anything I needed (here is my shoutout to the INCREDIBLE Diane "Mama" Potts and everything she does for us!). Most of all, I am incredibly thankful for the lifelong friends I have made through the RMED. I found my study partners, my support system, my bridesmaids, and my "home away from home" through this program.
Are you involved in any extracurricular activities? If so, which ones? How have they added to your experience as an RMED student?
Throughout my medical school career, I have been a member of the Family Medicine Interest Group as well as serving on its Executive Board as the M2 Representative and Vice President. Along with a few peers, I also help to charter the Geriatric Medicine Interest Group on campus. We realized that all other patient populations were represented through extracurricular activities on our campus apart from the older patient population. Therefore, we filled the need and it has been very successful over the last few years, especially with our dementia screening workshops and volunteer opportunities with local nursing home residents. I was also involved in developing an afterschool program called "Healthy Heroes" that aimed to improve health literacy and promote a healthy and active lifestyle for elementary aged children. We would give lessons such as reading nutrition labels, proper food proportions, or how to make healthy snack choices and then of course follow our lessons with fun games and activities to get the kids up and moving! But one of my favorite extracurricular volunteering experiences was definitely through the Maya's House program. This program serves the Rockford community by providing free child care for low-income families. Through this program, the role of the volunteers was simply to entertain the kids or aiding with other recreational activities, so it was a really fun way to give back to the community!
What advice would you give to students applying to medical school? How would you encourage them to consider rural health?
To anyone interested in entering the medical field, I would say that it is important to have good mentors who not only guide you through the application process but provide a recommendation vouching for your likely success in the medical field. Additionally, building a resume or CV is such an important part of the application process. While it is definitely important to have various extracurricular activities, make sure that you find something you're passionate about! Grades and your MCAT score are important, but medical schools primarily care about who you are and what kind of physician you would be. So, find opportunities that show your care and compassion for others but are sincerely passionate about.
In regards to rural medicine, there is such a great need throughout the United States. And while serving as a rural physician gains you the opportunities to serve a wider variety of patients in more ways than just preventative care, the true appeal to rural medicine is the ability to work closely with a community that you know so well and can really make a huge impact on!
While in your medical studies, what is something you have had to learn to do differently?
The sheer volume of content in medical school is such a huge difference from anything I had experienced throughout undergrad. Things move quickly, and you have to make sure that you stay on top of the material. I learned that my prior methods of study weren't sufficient, and how beneficial it is to find other students whose study methods are mutualistic to your own! I discovered early on that I am an auditory learner and was lucky enough to have a study partner that learns best by presenting the material! Medicine truly is a "team sport," and having someone to bounce ideas off of is essential. You will always be more successful working with others than alone!
What hobbies/interests do you have outside of school?
Throughout my lifetime, I have always loved participating in athletics and spending time outdoors. I really enjoyed getting to play in our school's slow pitch softball league! As a child, I spent a lot of time hunting and fishing with my dad, things that I still enjoy today. I also use creative outlets to relax, particularly watercolor painting. Most importantly, I love to spend time with my new husband, family and friends. My husband has been my rock and my greatest source of support and encouragement throughout this experience, so I cherish any time I am able to travel home to spend time with him. Additionally, my family is so important to me and spending time with them is something that I value greatly, especially getting to play with my adorable little niece and baby nephew! Lastly, one thing in particular that my friends and I enjoyed were our "beer and pizza" Thursdays at Rockford's Rural on Tap, and it is something that we always looked forward to!
Is there anything else you'd like to share about yourself or your RMED experience?
RMED is such an incredible entity that gives you opportunities for rural experiences across the state and provides resources for research through the NCRHP. More than that, the reputation that proceeds RMED students entering residency is astounding. There were countless residency interviews in which I was told how highly the program is respected amongst residency programs for the quality physicians it produces!
Thank you, Whitney for opening up your heart to all of us, and for your passion and dedication to RMED over the past 4 years! It's students like YOU who make the program as wonderful as it is!
https://ncrhp.uic.edu/wp-content/uploads/2019/06/ncrhp-logo-white-300x138.png
0
0
Beth Squires
https://ncrhp.uic.edu/wp-content/uploads/2019/06/ncrhp-logo-white-300x138.png
Beth Squires
2022-03-11 17:26:47
2022-03-11 17:28:31
Friday Feature for March 11, 2022: RMED Student, Whitney Leininger