Friday Feature for April 8, 2022: RMED Student, Kaan Raif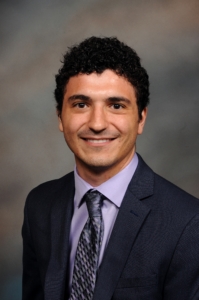 It's time for our Friday Feature where we focus on yet another standout student who is in their 4th year of our RMED program. Today we are focusing on Kaan Raif, originally from Barry, IL. He completed his undergraduate degree in Biomedical and Bioelectrical Engineering at Saint Louis University, in hopes to follow in his parent's footsteps to become a physician in a rural community.
1. What did you want to be when you were growing up? Are you majoring in it now, or are you following a different path?
Physician; I always enjoyed the sciences, especially biology. I also got to see my parents serve as the community primary care and pediatric providers.
2. Why did you choose to focus on rural medicine?
I enjoy the relationships you can build with your patients within the community. It makes medicine feel more like a way of life than a job.
3. What has been something you have found to be an unexpected, yet pleasant surprise during your RMED experience?
I have always been surprised by the enthusiasm and collaboration of my peers working towards their goals to serve their home community. That is a refreshing attitude to have especially in a time where physician burnout is coming to the forefront.
4. Are you involved in any extracurricular activities? If so, which ones? How have they added to your experience as an RMED student?
I have been involved with the campus music and acapella group (The Ultrasounds); as well as volunteering my time to work at the Nicholas Conservatory.
5. What advice would you give to students applying to medical school? How would you encourage them to consider rural health?
Medical school at times can feel like it requires sacrifice, however, at the end of the day, it is highly rewarding. It gives you the opportunity to work with and serve amazing people, in a field that is wholly unique and constantly advancing.
6. While in your medical studies, what is something you have had to learn to do differently?
Prioritizing what I find important and making time for my family/friends.
7. What hobbies/interests do you have outside of school?
I enjoy playing music (guitar and trumpet), having board game nights and cooking/hot sauce making.
Thank you, Kaan, for your passion and dedication for wanting to provide excellent care for your community!
https://ncrhp.uic.edu/wp-content/uploads/2019/06/ncrhp-logo-white-300x138.png
0
0
Beth Squires
https://ncrhp.uic.edu/wp-content/uploads/2019/06/ncrhp-logo-white-300x138.png
Beth Squires
2022-04-08 15:29:58
2022-04-08 15:29:58
Friday Feature for April 8, 2022: RMED Student, Kaan Raif