Friday Feature for April 1, 2022: RMED Student, Audrey Shoemaker!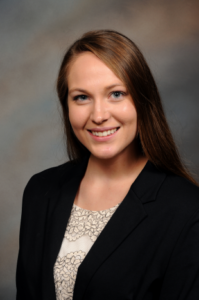 It's Friday, and you know what that means! We're back with another Facebook feature on a 4th Year RMED student. Today we'd like to introduce you to Audrey Shoemaker, an upcoming graduate originally from Sigel, IL. She's looking forward to starting her Family Medicine Residency this summer, but this Facebook feature was a perfect opportunity for her to take a minute to reflect on her time spent in the RMED program, and just how the stars aligned for her to get here! Read on to learn more about Audrey.
1. What is your undergraduate degree in and which college did you attend?
I majored in Interdisciplinary Health Sciences at the University of Illinois Urbana-Champaign.
2. What did you want to be when you were growing up? Are you majoring in it now, or are you following a different path?
I originally wanted to be a kindergarten teacher until my experience in a health occupations class in high school. After talking to my teachers and my family, I decided to pursue medicine. I am very happy with my choice! I believe I can help make a difference in the lives of my future community members.
3. Why did you choose to focus on rural medicine?
I was lucky enough to be raised on a farm, and it has always been my goal to go back to serve my own rural community or a community similar to my hometown. Rural medicine is a family-like environment. Everyone must pitch in and use their time and talents to better the health and wellbeing of community members. I am passionate about helping the underserved.
4. What has been something you have found to be an unexpected, yet pleasant surprise during your RMED experience?
I was able to have more patient continuity during my RMED rotations compared to other rotations in Rockford. It brought me such joy to be able to follow up on patients' outcomes and see them and their children again both in the hospital and clinic settings.
I first heard about RMED from Mark Meurer at his booth at the U of I grad school fair. He was dressed in a western professional style with cowboy boots looking like someone from my hometown, and he was passing out stress ball John Deere Tractors and cool pens, so I decided to go over and talk to him. He explained this program would provide excellent preparation to go back to serve a rural community. I attended the IRHA Annual Education Conference in Champaign while I was still in undergrad. I chose a table with a few open seats, and I started talking to Dr. Plescia and his colleagues. During this conversation, I was surprised to learn he was the director of the RMED program! During the RMED interview, seeing a familiar face helped calm my nerves and probably helped me get into the program. Small decisions can make a big impact on life's paths, and I am grateful that I have had the opportunity for RMED to be a part of mine.
5. Are you involved in any extracurricular activities? If so, which ones? How have they added to your experience as an RMED student?
I love singing in the Ultrasounds A Cappella group performing for local assisted living facilities and school functions.
6. What advice would you give to students applying to medical school? How would you encourage them to consider rural health?
With rural health, you can make such a difference in underserved communities in addition to advocating for more resources for rural and other underserved communities at the local, state, and national levels.
7. While in your medical studies, what is something you have had to learn to do differently?
I have learned to be better at time management. I try to be fully present in whatever task I am participating in. If I am studying, I try to minimize distractions. If I have time off, I try to fully relax, have fun, and catch up with family and friends. I learned I can always make time for things that are important to me. I am not perfect at this skill, but I am trying to improve every single day.
8. What hobbies/interests do you have outside of school?
Kayaking on the Illinois River with my husband is my favorite thing to do! I love going back home to spend time with my family, especially my adorable niece and nephew.
9. Is there anything else you'd like to share about yourself or your RMED experience?
I am very grateful I was able to be a part of a program that encourages combating health disparities and gives concrete examples of community building. We have access to inspirational faculty and attendings who help us learn in a hands-on approach!
Audrey, we certainly are lucky to have you in the RMED program! We can't wait to see where your career takes you from here!
https://ncrhp.uic.edu/wp-content/uploads/2019/06/ncrhp-logo-white-300x138.png
0
0
Beth Squires
https://ncrhp.uic.edu/wp-content/uploads/2019/06/ncrhp-logo-white-300x138.png
Beth Squires
2022-04-01 16:01:02
2022-04-01 16:01:54
Friday Feature for April 1, 2022: RMED Student, Audrey Shoemaker!