Friday Feature for April 15, 2022: RMED Student Trever Troutman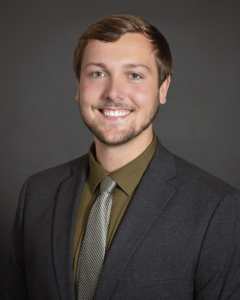 It's Feature Friday, and we have another outstanding RMED student we'd like to introduce you to! Trever Troutman is originally from Morrison, IL, and is a 4th year RMED student. Read on to learn more about how rural life suits him more than practicing medicine in a larger city!
What is your undergraduate degree in and which college did you attend?
Bachelor of Science in Biology – St. Ambrose University, Davenport, Iowa
What did you want to be when you were growing up? Are you majoring in it now, or are you following a different path?
I have wanted to be a physician since as far back as I remember. Thinking back, I can recall having to draw a picture of what I wanted to be when I grew up in the 1st grade and drawing a picture of a doctor way back then.
Why did you choose to focus on rural medicine?
Growing up in a rural area gave me an appreciation for the close knit feel and relaxed atmosphere that comes from living in a rural community. I have always known that rural life is more my style and planned to go back to a rural area following my training. I also know that rural areas face unique challenges in medicine and are in desperate need of quality medical care, especially with the growing physician shortages.
What has been something you have found to be an unexpected, yet pleasant surprise during your RMED experience?
As someone that has always known that I wanted to choose Family Medicine as my medical specialty I would say the most pleasant surprise that came out of my RMED experience was actually getting to experience the benefits that come from patient continuity. Personally, I didn't really get to experience much continuity with my patients in my more fast-paced traditional rotations in Rockford, but during my extended RMED rotation back home in Morrison I got to work with a phenomenal team and got my first taste of real patient continuity. I got to see the same patients multiple times throughout my time there and got to experience the bond that grows when you have those established relationships with patients rather than walking into every room as a stranger. It made me all the more excited to have my own panel of patients as I prepare to move into Family Medicine.
What advice would you give to students applying to medical school? How would you encourage them to consider rural health?
If I were to give advice to students applying to medical school I would have to say that it would be to ensure that you have a strong support system and a true passion to go into medicine before starting the journey. The long road through medical school is a challenge to say the least, so make sure that you have all the support you can to help get you through and the passion to keep you going when things get hard. If you have the support and the passion then stick to it and don't let hiccups along the way deter you. As far as encouragement to pursue rural health, I would say that having experienced plenty of time in the clinical setting at this point that rural healthcare brings such a different feel to the job. Working with a smaller group in a rural setting makes your coworkers feel like family, and the reward for being one of the all too few sources of healthcare for your patients makes it so worth it.
While in your medical studies, what is something you have had to learn to do differently?
My medical studies certainly changed my approach to studying and self-guided learning. I was told by a faculty member at the very start of medical school that the sheer volume of information we were about to go through and the pace at which we were going to do it would feel like a fire hose going off in my face. That individual was certainly not kidding, and I had to quickly adapt to better my overall ability to stay afloat and on top of all the information being thrown at me. The modifications don't happen overnight and the first few weeks were a challenge to say the least but eventually you find the best individualized way to stay on top and power through the material. Overall this has helped me in the long run as I know that throughout my medical career new information will constantly be thrown my way and I am confident now in my ability to take in that new information while staying on top of my day to day responsibilities.
What hobbies/interests do you have outside of school?
Outside of medical school I love to be able to just spend quality time with friends and my family. Beyond that I found the time to get ordained as a wedding officiant during medical school and had the honor of marrying my roommates and close friends last year. I also used to work in the dietary department of Resthave Home, a senior living facility back home in Morrison, as an aide and cook prior to medical school and still love to find time to cook and bake when I can.
Is there anything else you'd like to share about yourself or your RMED experience?
Through RMED I got to really experience rural medical practice hands on, especially when it came to Family Medicine. I also got connected with an even bigger support network through my extended RMED rotation, made great friends, and found phenomenal mentors along the way. RMED gave me plenty of unique experiences and insights, and was overall a positive add-on curriculum in my medical school education at UIC.
Thank you, Trever, for your hard work and dedication to wanting to become a family physician in a rural area! We are overjoyed to hear that you had such a wonderful hands-on experience while being in the RMED program.
https://ncrhp.uic.edu/wp-content/uploads/2019/06/ncrhp-logo-white-300x138.png
0
0
Lisa Masseron
https://ncrhp.uic.edu/wp-content/uploads/2019/06/ncrhp-logo-white-300x138.png
Lisa Masseron
2022-04-15 15:42:39
2022-04-15 15:45:45
Friday Feature for April 15, 2022: RMED Student Trever Troutman